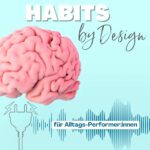 Die 6 Logical Level of Change
Wenn du eine Veränderung in deinem Leben anstrebst, dann musst du dafür sorgen, das die Voraussetzungen dafür auch erfüllt sind. Mit den Logical Levels of Change findest du den Hebel, um genau die Veränderungen vorzubereiten, die du anstrebst.
Die Logical Levels of Chance sind:
Umfeld
Verhalten
Fähigkeiten
Überzeugungen
Identität
Sinn
in dieser Folge erkläre ich dir, worauf du auf der jeweiligen Ebene achten solltest, damit die Voraussetzungen gegeben ist und deine Veränderung überhaupt erst möglich wird.